Adobe Device Activation Limit
Published Date:
Description
Explains what the Adobe device activation limit is and how to resolve the device activation limit message. Please note, Adobe Creative Cloud (CC) licenses provided by UVU can only be activated on a maximum of 2 devices at once.
---
Solution
Sign Out of Your Adobe Creative Cloud Account
Your Creative Cloud subscription provided by the University lets you activate your Adobe apps on a maximum of two devices simultaneously (UVU-Owned or Personal).
If you are logged in to 2 devices already and attempt to log in to a third, Adobe detects that you have exceeded your device activation limit, and you'll receive the following message.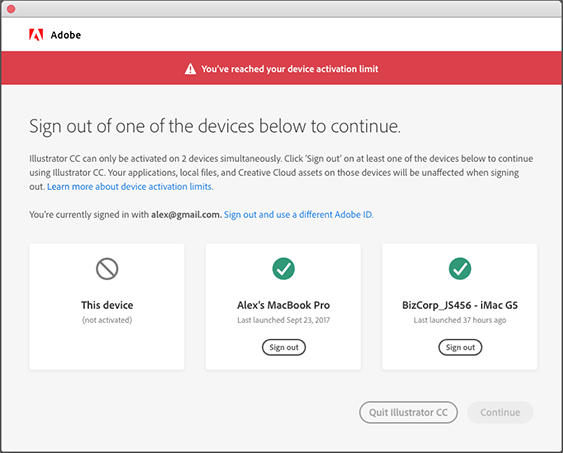 To sign out of your Adobe Creative Cloud account on one of your other devices, do the following:
Choose one of the currently logged-in devices and click the Sign out button.

Once that is done, select the Continue button. You may now use your license on the current device.
---
Related Articles
Contact Support
If you could not resolve your issue using the provided solution, please contact the Service Desk.